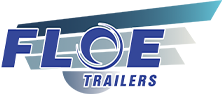 Trailers that are functional for any situation you may need a trailer for. FLOE offers the CargoMax, a sport utility trailer that is redefining an industry! We also carry the Versa-Max Utility and the Versa-Max Ramp Trailers.
CARGO-MAX UTILITY TRAILERS
THE UTILITY TRAILER THAT CHANGED THE INDUSTRY
Cargomax™ is the sport utility trailer that is redefining an industry! With the industry's only ultra body™ and fender system that is guaranteed to never rust, rot or need paint – ever!
The uni-body design includes virtually indestructible side walls which remain durable even in sub-zero temperatures. FLOE's exclusive floor trussing system delivers maximum strength, excellent water drainage and superior cleaning ability.
YOU GOT IT. IT'LL HAUL IT.
You demanded the best. We gave it to you. The Cargo Max™ XRT's rugged technology combines strength, functionality and style. There's simply no competition.
High strength-to-weight ratio extruded aluminum frame never rusts or needs paint. Lightweight enough to be towed by a compact car and allowing it to be easily moved by hand, yet rigid enough to handle heavy loads. All joints fully welded ensuring extreme rigidity and durability.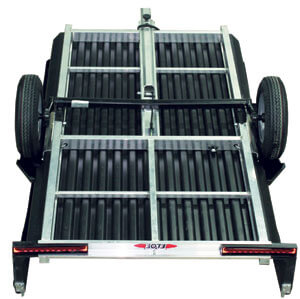 ADVANCED DESIGN COMBINES AN ALUMINUM FRAME WITH A HIGHLY IMPACT-RESISTANT POLYMER ULTRA BODY™
Trailer body withstands full swings with a sledge hammer at -20°F with no damage!
Heavy-duty rust-resistant axles & wheels. Independent rubber torsion suspension tames the worst roads and handles heavy loads. Superior hub lubrication system lets you easily grease hubs without disassembly. Large speed rated wheels will stay cool over long distances.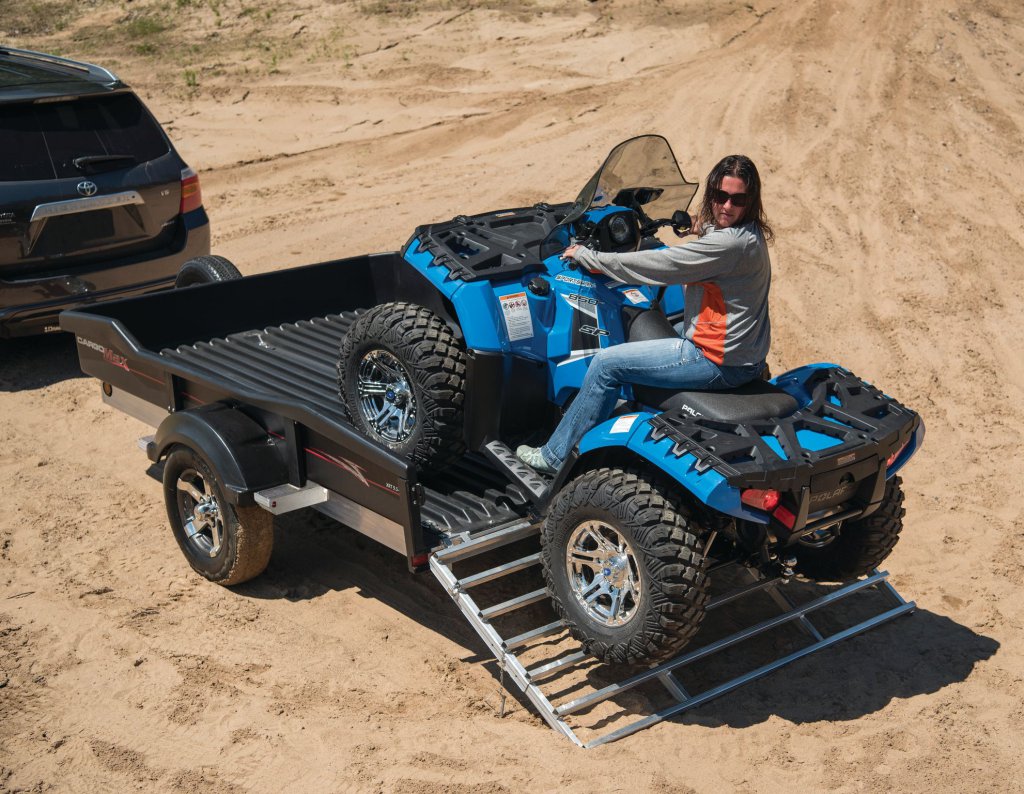 THREE UNIQUE LOADING AND UNLOADING OPTIONS

LEVEL RAMP MODE: For ATV's and other high clearance loads.
LIMITED TILT MODE: For low clearance vehicles, such as lawn mowers and motorcycles.
FULL TILT DUMP MODE: For dirt, mulch, gravel and other loose material.
CARGOMAX TRAILERS COME IN A VARIETY OF SIZES:
8′ – 56″
9.5′ – 73″
11′ – 73″
13′ – 73″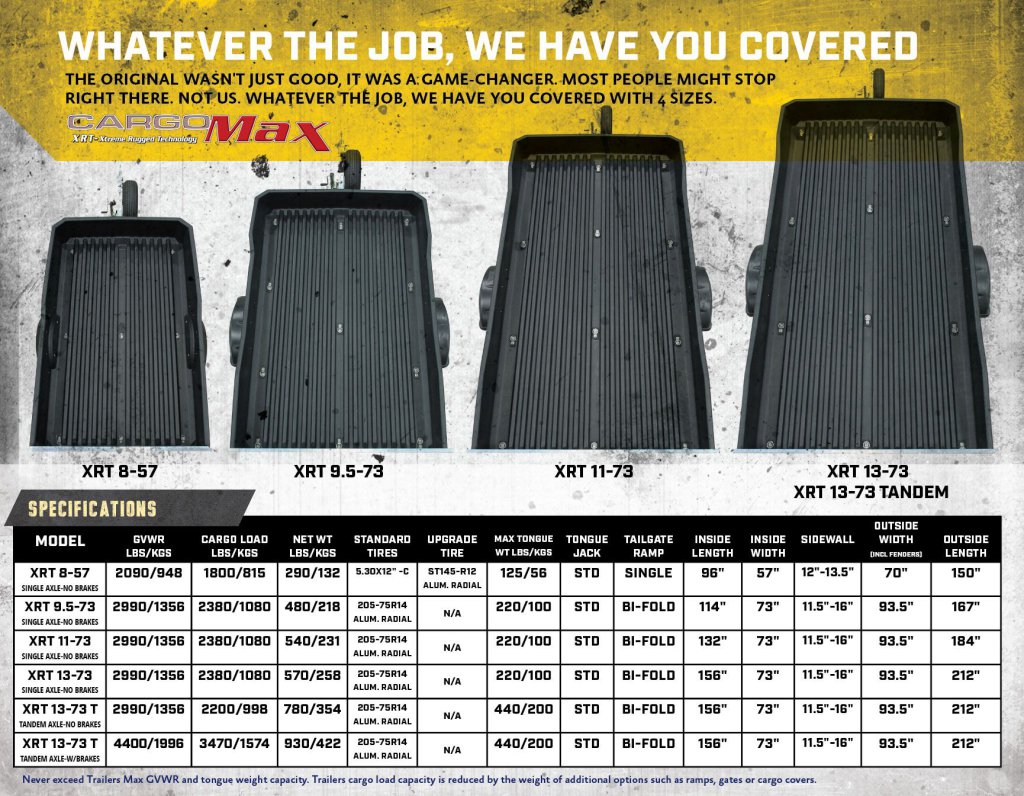 ALUMINUM OPEN DECK AND ENCLOSED TRAILERS
WHEN THE GOING GETS TOUGH, THE TOUGH GETS A VERSA-MAX
FLOE has been building aluminum trailers longer than most other aluminum trailer manufacturers in the market today. At FLOE you will find an avid team of die-hard riders. We trailer, we ride, we test, we listen, and then we brainstorm! While this doesn't sound like rocket science, it is key in providing you with quality trailers loaded with the features you want most.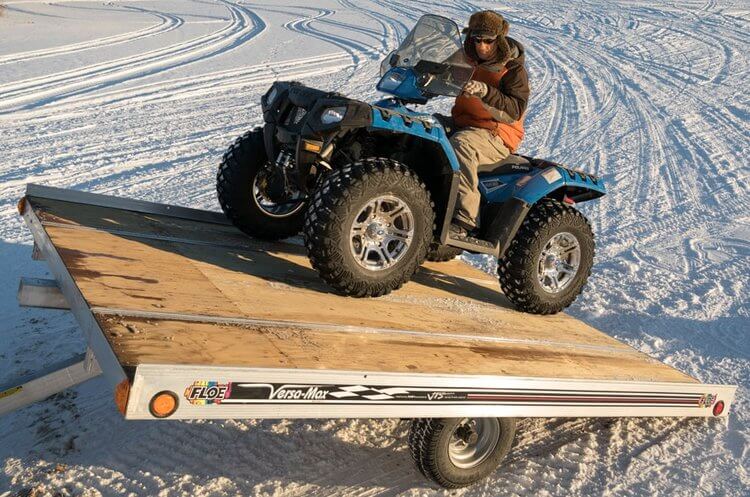 Patented Fast Action Tilt Clamp
This system is easier to use because it eliminates the hitch pin. It pulls the tongue tight to the trailer with a stainless steel bolt which eliminates the normal vibration common to inferior tilt trailers.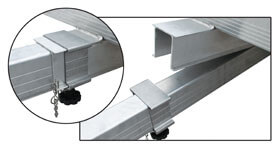 FLOE Versa-Max™ tilt trailers are available in 10′ and 12′ models. They offer great value and excellent performance for pulling any type of load.
FLOE's Versa-Max™ Ramp Trailers can take whatever you dish out. These 102" wide trailers have user-friendly features to simplify your hauling. The 52" extra-wide ramp is constructed out of 3/8" pressure treated plywood that's framed with aluminum to provide maximum strength, durability and safety.
The FLOE Ramp/Salt Shield makes it the easiest drive-on/drive off trailer available. The longer tongue on a Versa-Max™ Ramp trailer allows enough space between your trailer and the tow vehicle to lower both sides of the ramp/shield combo at the same time without jackknifing the trailer.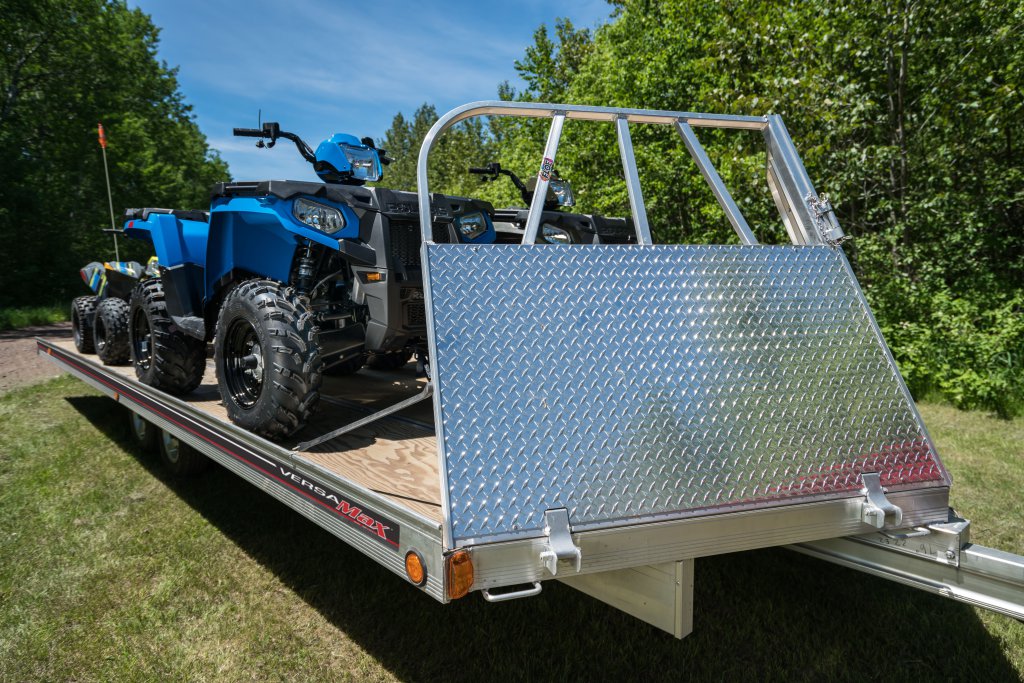 VERSA-TRACK™ & Vortex Hubs
Many manufacturers have tried to copy FLOE's patented Versa-Track™ system but their products are merely imitations. Versa-Track™ is simply the easiest to use tie-down system available today.
Vortex Hubs are standard on all Versa-Max™ trailers. Vortex lubrication with a threaded grease cap makes changing or adding grease easy…no need to remove the hub! These features allow the manufacturer to offer a 6 year, 100,000 mile limited warranty. The Vortex hub/spindle is designed to be a no maintenance hub for 6 years.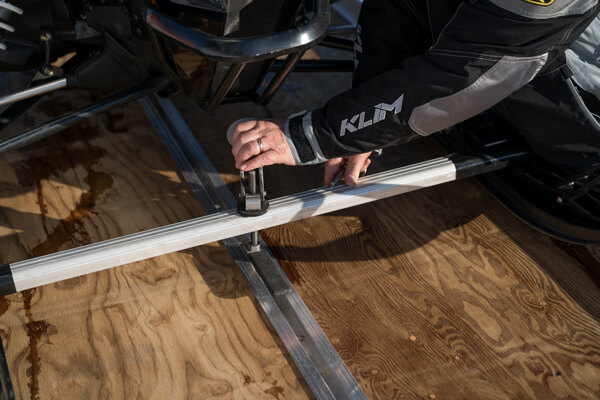 Versa-Max™ trailers are constructed with tubular extrusions adding rigidity and strength without the weight. These tubes eliminate the twisting and flexing issues found on "I" beam and "C" channel designs. FLOE's frame will lead to longer-lasting welds and ultimately a longer-lasting trailer.
Click HERE for Trailer Technical Specifications
Highest quality and most functional all-aluminum utility trailer available
Equipped with FLOE's Versa-Track system allowing you to connect the trailers's heavy-duty tie-downs anywhere along the track giving you endless options to help secure your load.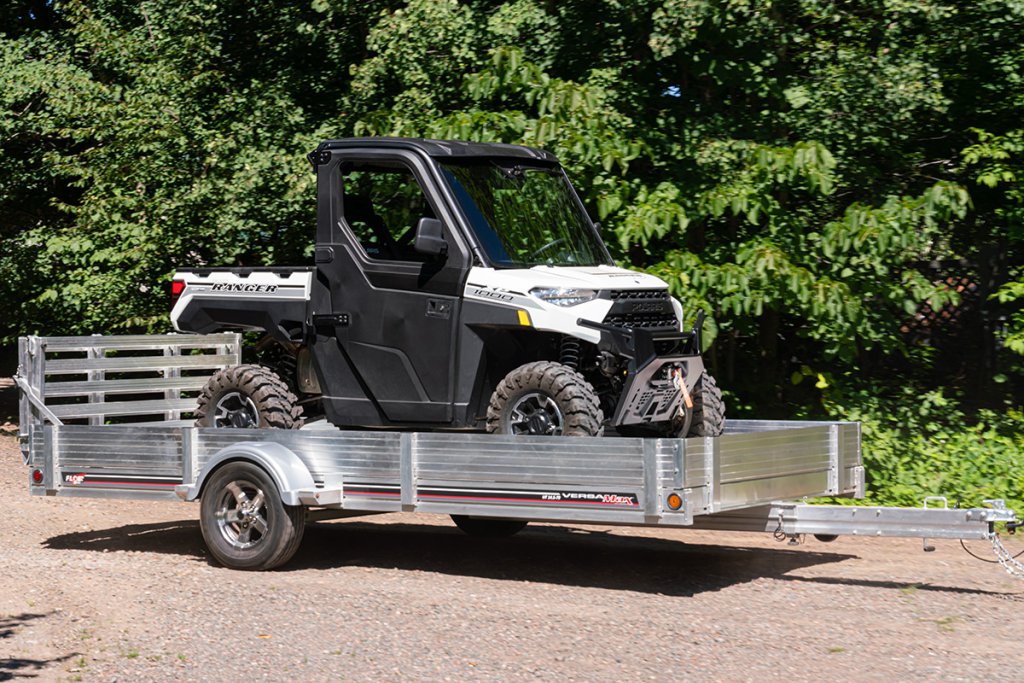 Three Unique Loading & Unloading Options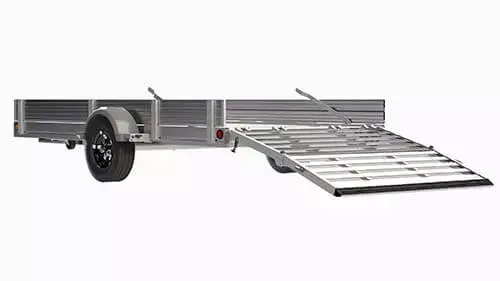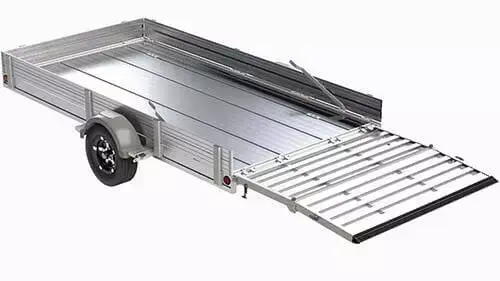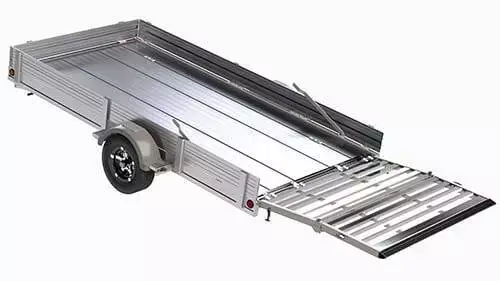 Makes loading fast and easy. Incorporates FLOE's exclusive pin silencers making it the quietest trailer in the industry. The bi-fold design keeps a low profile for less wind drag and easy, efficient towing. If you're towing the trailer without a load, you can fold the ramp to the inside of the trailer to minimize wind resistance even more.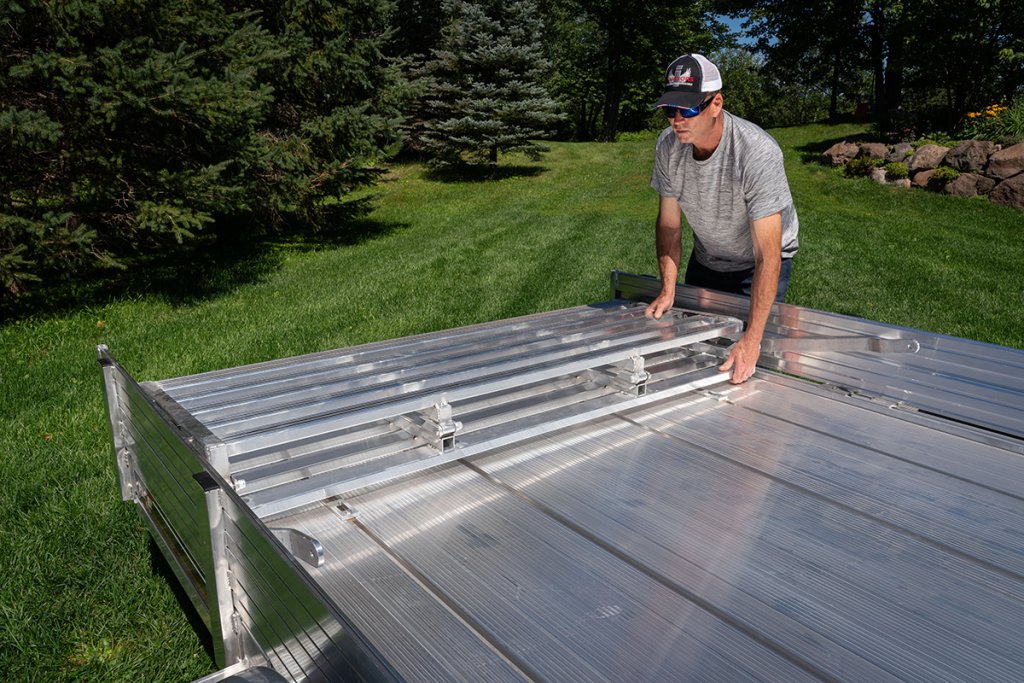 Lockable Doors, Rock Guards, Enclosure Vents, Side Access Door, and an Optional Spare Tier Carrier. Pro-Tektor™ trailers also feature a limited 10 year warranty on the aluminum structure.
Keeps your trailer bed firmly in position and prevents rattling. Slide the clamp over the channel and turn the knob to tighten.
Infinite tie-down positioning comes standard with four tie-downs.
Optional oversized 2 1-2" x 2 3/8″ folding D-Ring style tie downs are also available to add additional tie-down points anywhere along the Versa-Track™.
71″ side/ramp combination makes it easy to load your equipment and be on the road fast. Just connect the side/ramp combo in the Quick-AttachTM track and be on your way.
Quietest trailer in the industry with tailgate ramp pin silencers and ramp/side kit expansion silencers
Premium aluminum alloy wheels with radial tires standard on all UT models.
Galvanized Axel & Rubber Torsion System
Provides a smoother ride as compared to a spring axle. Galvanized axle keeps rust & corrosion at bay.
Concealed and protected within the frame.
Comes standard with two steps on either side for easy in/easy out.
Optional 11″ and 25 " solid side kits available. Also 11″ side-load kits are available for the 12.5′ and 14.5′ models with either an 11″ or a 25″ front.
For easy trailer movement by hand.
THE ENCLOSED TRAILER THAT TOWS SO EASILY YOU'LL THINK IT'S AN OPEN BED TRAILER!
The Pro-Tektor™ trailer features front and rear access doors to provide easy, safe loading and unloading. The doors are mounted with FLOE's exclusive, continuous extruded hinge design and feature two gas shocks to make opening and closing smooth and easy.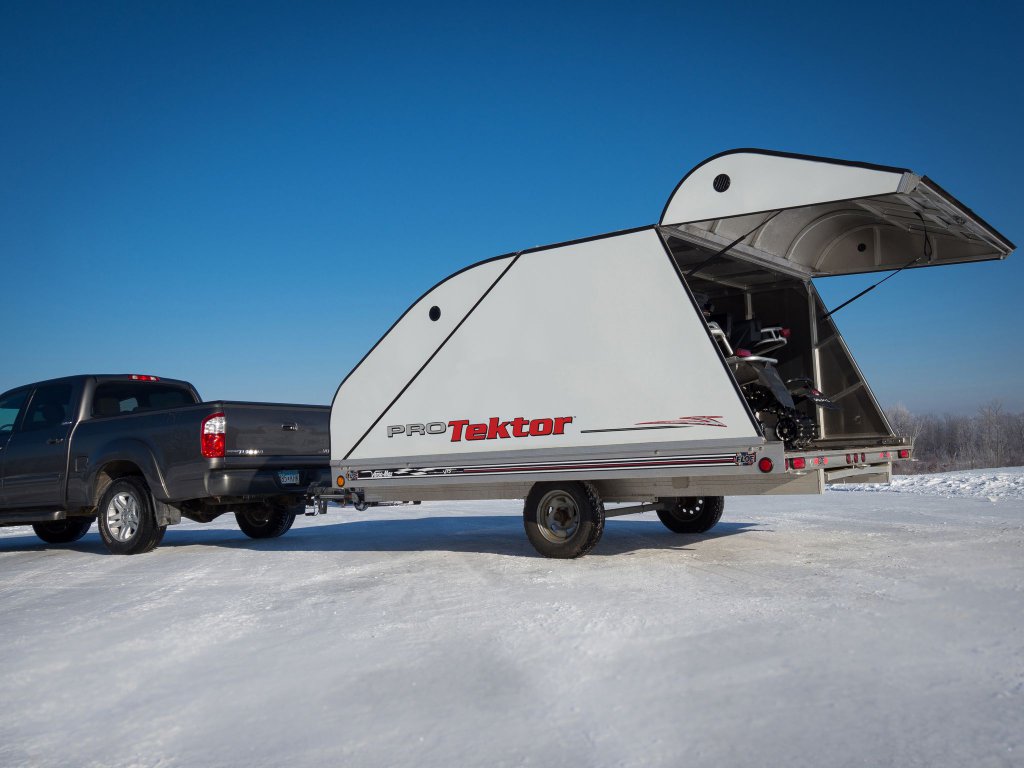 Style…Function…Protection. The Pro-Tektor™ has it all! The aerodynamic front and rear gull wing doors are standard on all Pro-Tektor™ trailers, providing a high overhead clearance. Dual gas shock assist allows for easy access and a full-length hinge gives lasting quality and protection.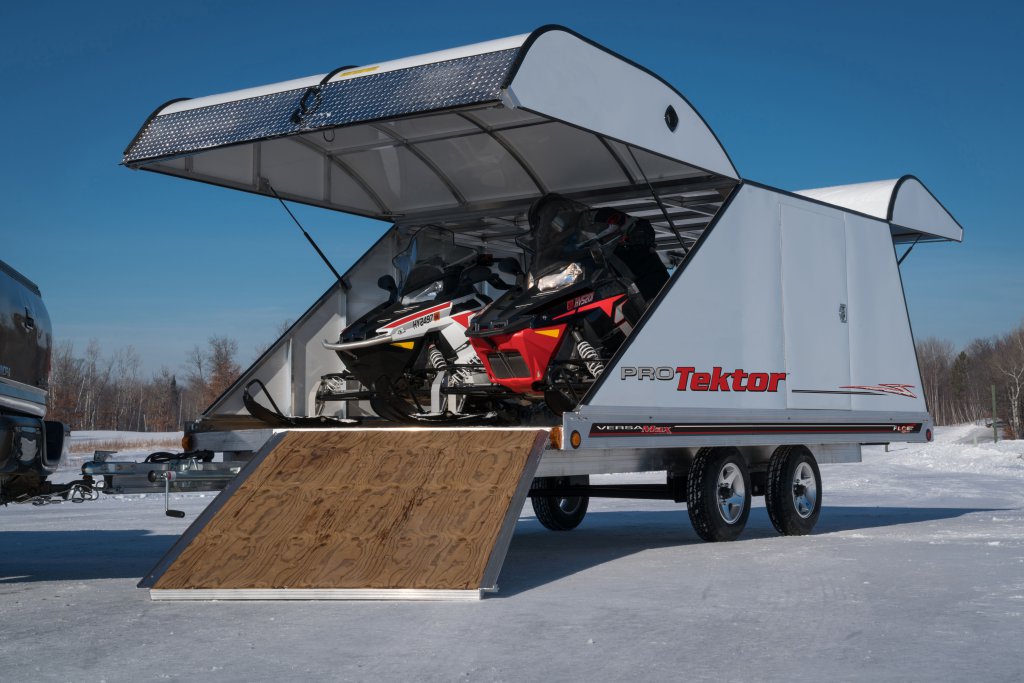 Lockable Doors, Rock Guards, Enclosure Vents, Side Access Door, and an Optional Spare Tier Carrier. Pro-Tektor™ trailers also feature a limited 10 year warranty on the aluminum structure.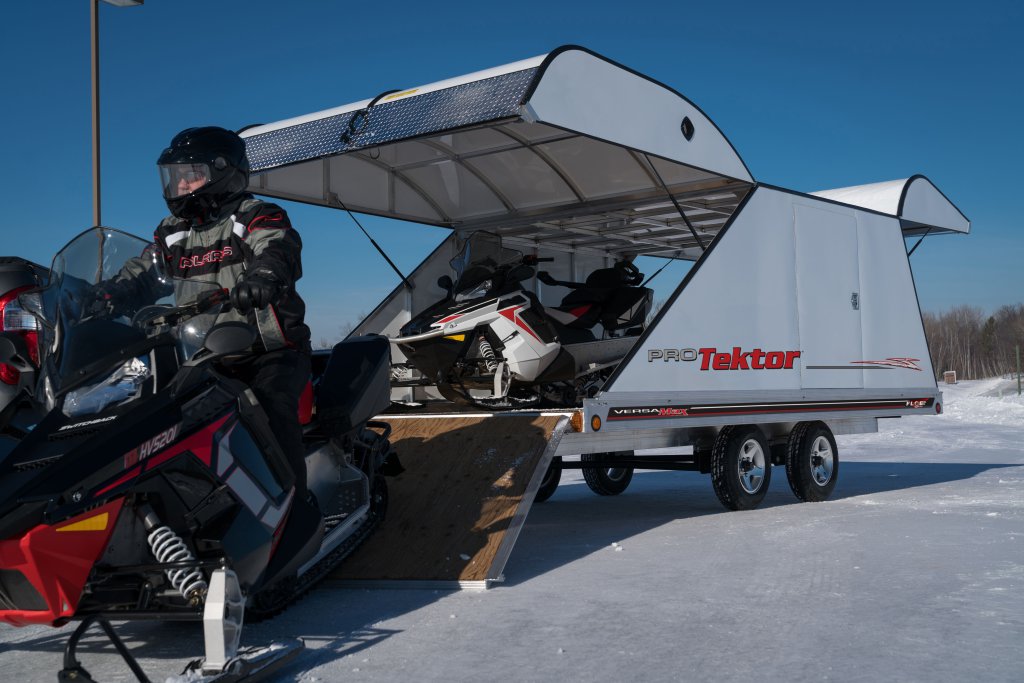 The 54″ interior height accommodates a large variety of equipment, and a variety of length options are available including 12′, 14′, 16′, 22′ and 28′ sizes.