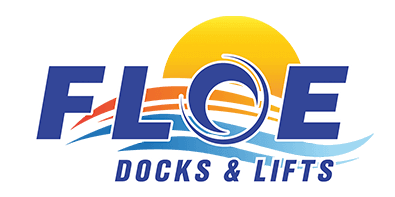 FLOE BOAT LIFTS - QUALITY AND DEPENDABILITY FOR YOUR WATERCRAFT
FLOE offers a complete line of vertical and pivot boat lifts to accommodate every recreational watercraft. Engineered with the finest custom extruded aluminum frame components, stainless steel cables and heavy-duty aluminum pulleys, these lifts are corrosion-resistant and manufactured to last. All FLOE boat lift systems are backed by a 15-year limited warranty.
EASY-LEVEL™ LEVELING SYSTEM
All FLOE vertical boat lifts are equipped with the patented Easy-Level™system. There's no need to get wet when adjusting the lift to the perfect height and a cordless drill is all that's needed! Simply turn the nut inside the leg to adjust the lift up or down.
VERTICAL SCREW DRIVE TECHNOLOGY – A DEFINITIVE LEAP FORWARD
FLOE's VSD technology raises and lowers your boat in about one-half the time of most other powered boat lifts.  It is the most energy efficient boat lift in the world. The drive train is whisper quiet with no clicking winch gears or pinging cable. The low-maintenance sealed gear head electric motor simply spins the screw so that the ball nut travels back and forth as it pulls the lifting cable.  The industrial strength ball-screw is rated for 20,000 cycles at 10,000 lbs..  No need to ever replace a worn winch cable with a VSD lift!
FLOE also offers custom electronic control systems for easy power and accessory connection. You can quickly raise and lower your boat with the push of a button on the industrial-duty wired remote with a 25-foot cord for convenient positioning or combine your lift with a wireless remote and flood/canopy light system.  Add a FLOE Solar Charging panel and you'll never need to charge your batteries.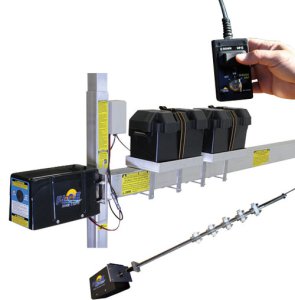 FLOE's vertical boat and pontoon lifts accommodate watercraft ranging from 2000 to 10,000 lbs. The bolt together design uses lock-nuts to keep the frame components tight and eliminates structural welds that can wear out over time. A sturdy V brace frame design is the most rigid available while still allowing easy access to the boat. The main cradle beam lowers to 9.5 inches from the ground, allowing for smooth operations in less water than other boat lifts.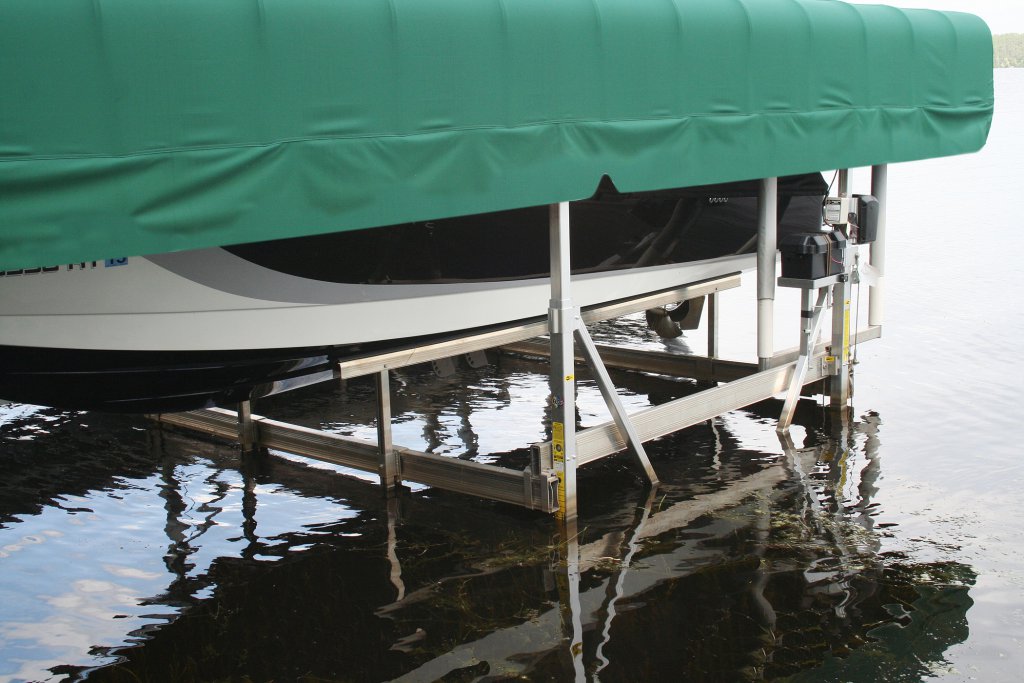 FLOE's exclusive state-of-the-art, industrial strength Vertical Screw Drive [VSD] boat lifts are the perfect choice for those who want the best of the best. Designed to be virtually effortless, VSD boat lifts raise and lowers boats in half the time of other lifts. The drive train is whisper quiet and the 24-volt VSD will lift a 3500-lb. boat 177 times on a single battery charge!
AVAILABLE IN A VARIETY OF SIZES AND CAPACITIES
VSD-3800
VSD-5000 and 5000 Pontoon
VSD-6000
VSD-6500 and 8000
VSD-10,000
For technical specifications and lift measurements, please visit Floe Vertical Lifts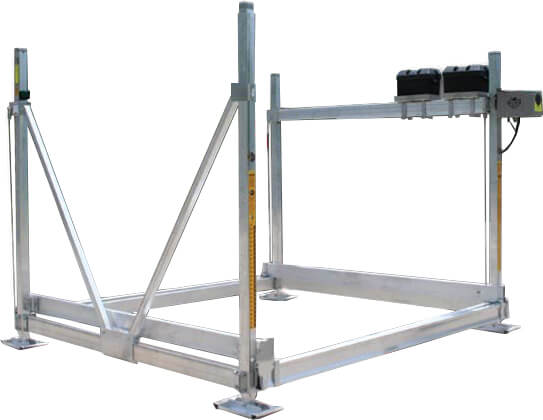 FLOE's 12-volt DC electric boat lift winch lets you easily raise and lower your boat or pontoon with the push of a button. It includes a wired remote with 30′ cord that has a key switch allowing you to turn off the lift when you are away.
This system offers exceptional value compared to other power boat lift winch systems and includes a battery box with a built-in Battery Conditioner Indicator.
There's also a manual winch with a crank wheel option that fits all FLOE vertical winch boat lifts. This heavy-duty gear-reduced winch features an automatic load-holding brake, a large easy-to-crank wheel with a speed knob, and a strong 5/16″ flexible stainless cable.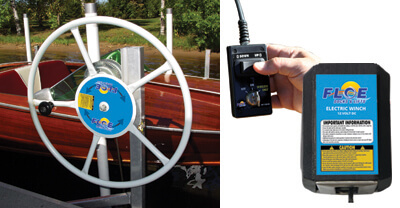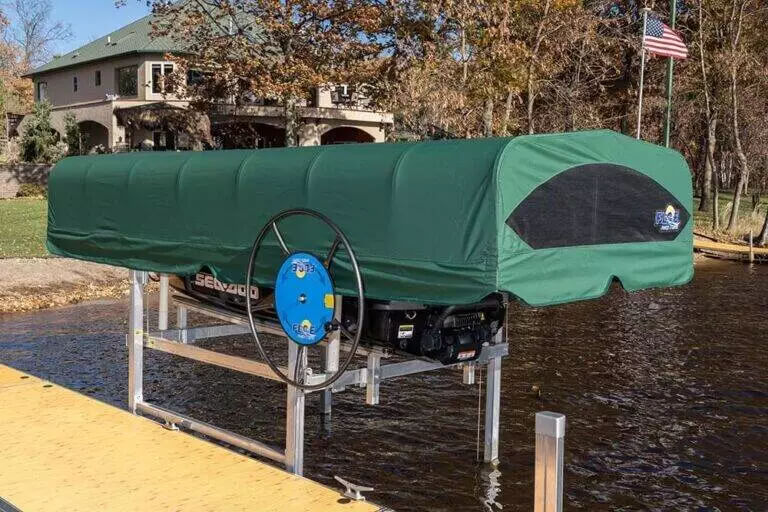 AVAILABLE IN A VARIETY OF CAPACITIES
V-1600
V-2602
V-2000
V-3600
V-4600
For technical measurements and lift measurements, please visit FLOE Vertical Lifts.
Premium-grade solution-dyed fabric
FLOE uses a premium-grade solution-dyed fabric that is water-resistant, has a more luxurious look, and weighs 50% less than comparable vinyl fabrics for easy removal and installation. The SDP fabric is urethane coated and UV protected. In addition to the durable construction, the full-length seams are heat sealed to minimize leaks. FLOE offers a variety of canopy lengths and widths to accommodate different watercraft sizes. The canopy frames adjust vertically and horizontally to match up perfectly with your boat and protect it from the elements.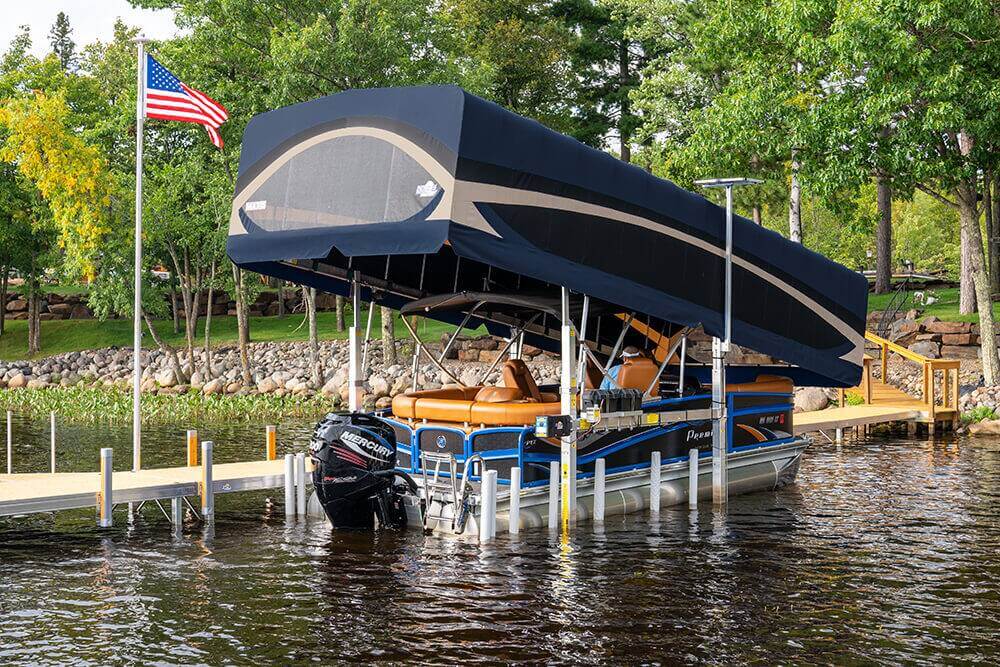 Quick Clip™ and Elastic Tension-Belt™ systems
All of FLOE's canopy systems incorporate FLOE's exclusive Quick-Clip™ System with ergonomic finger grips allowing you to install and remove your canopy fabric in half the time of other systems. The exclusive Elastic Tension-Belt™ design provides constant tension on the fabric for a tailored look and tight fit.
Easy access to your lift with the touch of a button
The Maxis™ Canopy is another FLOE invention. It has 32″ of additional side coverage over standard canopy fabrics providing even more protection for your boat. Push a button and your canopy frame tilts up allowing easy access for boats with towers and pontoons with bimini tops. The unique mesh end design allows air to flow through the canopy.
64″ of total side coverage on all Maxis™ canopies.
Custom option available to add stripes to canopy ends to provide an enhanced look or to coordinate with Maxis Canopy Fabrics.
32″ of total side coverage on all AirMax™ canopies.
Allows air to flow through the canopy.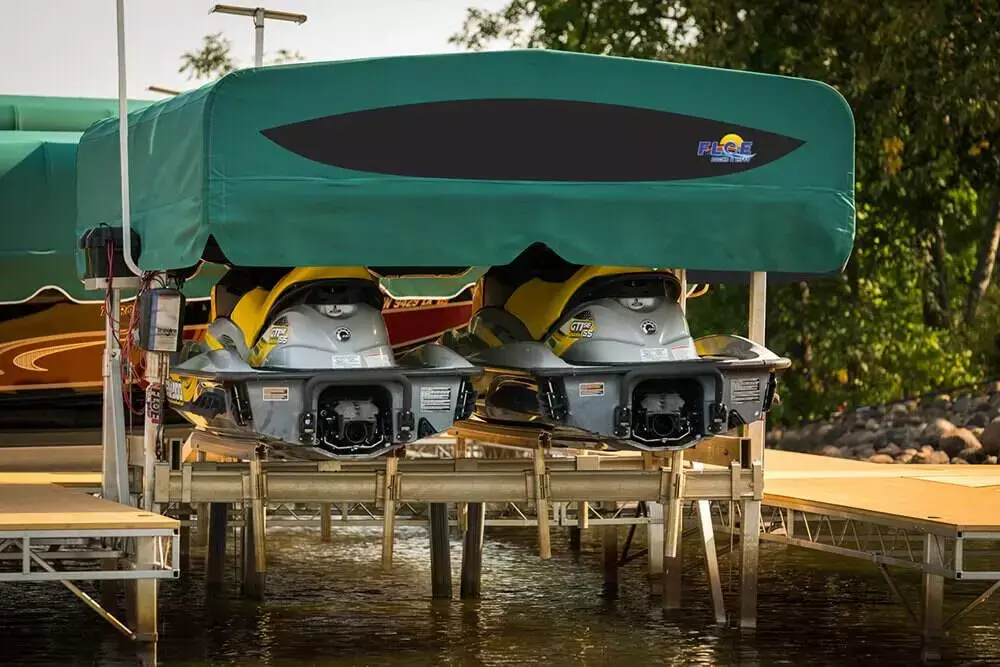 The perfect solution for those who don't want a boat lift but still want to protect their boat from the elements. Includes FLOE's Easy Leveling™ System so you can effortlessly level the canopy without getting in the water.
Available in all of FLOE's AirMax™ canopy colors including Navy Blue, Green, Grey, and Black. Can also customize with AirMax™ Premier custom striped ends. The inside width is 119" and accommodates all sizes of 10.5' canopies (canopies sold separately). Must anchor when installing.
Floe's pivot boat lifts offer a trouble-free, economical solution for small boats up to 1600 pounds.
A manual winch with an automatic load-holding brake, aluminum pullies and stainless steel fasteners

Low-friction pivot points for smooth, no-bind operation.

Four independent infinite adjustable leveling legs with 24 inches of travel

Optional Pro-Park Vertical guide-in system

Optional wheel kit allows you to roll your boat lift in and out without lifting
AVAILABLE IN A VARIETY OF CAPACITIES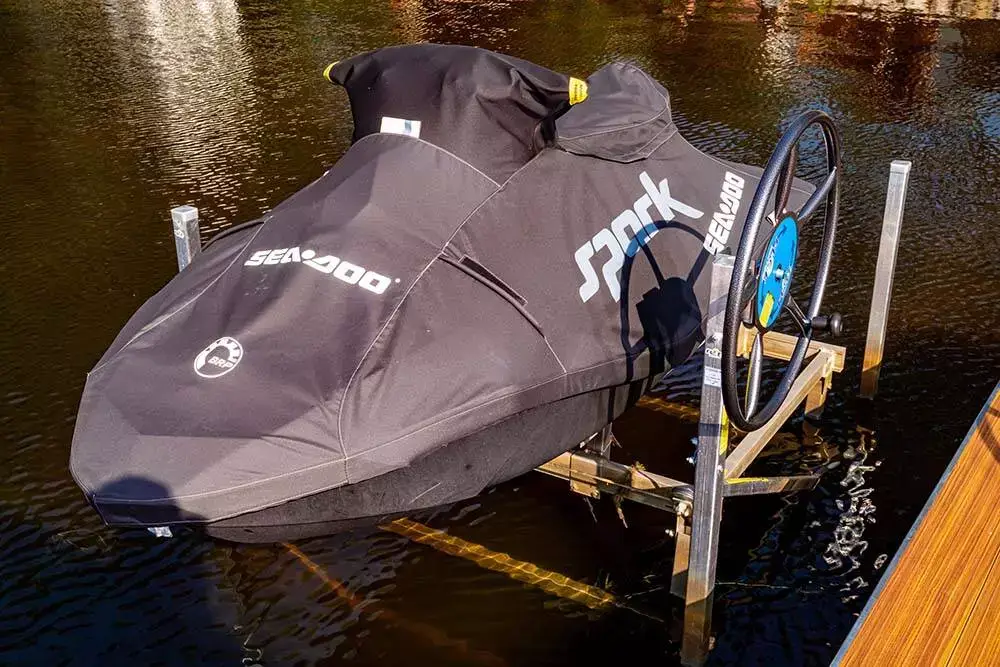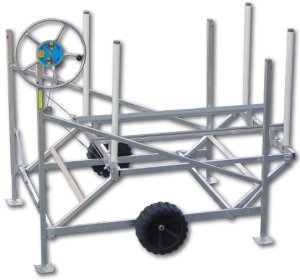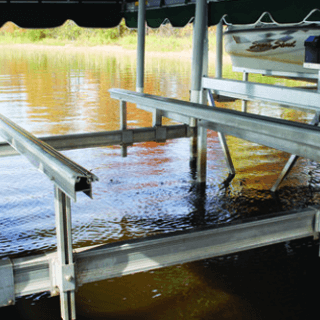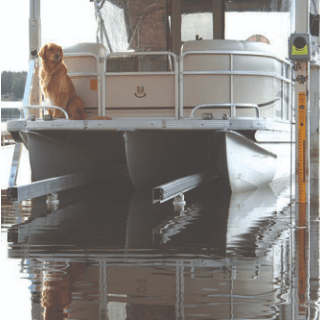 Pontoon Full-Length Bunk/Guide-in System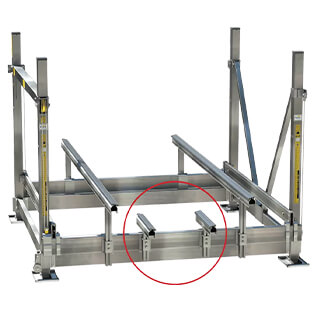 Pontoon Cradle Pad Bunk/Guide-in System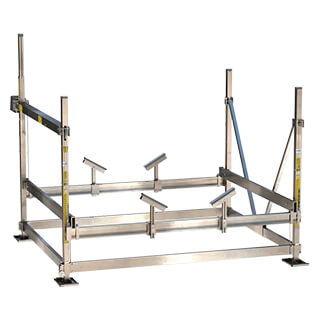 Perfect-Park™ Guide-In System
Pro-Park™ Vertical Guide-In System
Precision-Park™ Horizantal Guide-In System
Find out more about FLOE's Boat Lifts, Docks, Accessories and more.